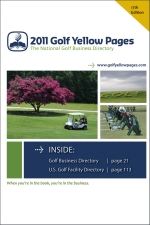 CARSLBAD, CALIF. — The 17th edition of the Golf Yellow Pages, often referred to as the National Golf Business Directory, is being delivered to public, private, and resort golf courses throughout the United States. The 2011 Golf Yellow Pages is the only national directory in a print handbook format and is available today for purchase through www.golfyellowpages.com and www.amazon.com.   
An indispensable industry resource, Golf Yellow Pages contains contact information for 16,431 golf course facilities, key golf businesses and suppliers organized by category, plus new golf businesses identified by recent trade show participation.
"Our Sellbox design team kicked it up-a-notch with our 2011 directory," shared publisher David Wogahn. "End result, it's in a new handy size with an upgraded design layout, and as always, packed with plenty of valuable data."
For more details about the 240-page directory visit www.golfyellowpages.com or www.amazon.com. You may order online or call (800) 864-2754 x130.
ISBN-13 #: 978-0-9676929-0-6
$49.95
About the Golf Yellow Pages
Published since 1994, the Golf Yellow Pages is both a U.S. course directory and a resource for golf courses to locate vendors that specialize in golf products and services. Golf Yellow Pages is published by Sellbox Inc. who also publishes www.GolfMediaLibrary.com, a golf media products portal.
Media Contact:
Emmy
Phone: (530) 666-6508
Email: Emmypga@aol.com